Plugins
What are plugins?

You can create special effects with it,
to ad something extra to your creation.
Plugins have a nice side effect together with paint shop pro
once you know how to install them
you can do great things with it.


How to install?

You need three important files to let the plugins work, these are:


Unzip these files in C:\WINDOWS\SYSTEM32 (WINDOWS XP)
if you still have the old system, unzip it in C:\WINDOWS\SYSTEM (WINDOWS 89)
This is extremely important, if you put them in another folder the plugins won't work.

Now you can download the plugins you like to give a nice effect to give your creation..
Paintshop pro already created a folder "C:\ProgramFile\Paint Shop Pro\plugins"
Here you can unzip/install the plugins.
Although i made a folder outside the Paintshop Pro folder
everytime i put in a new plugin in it i also make a backup of it.
Create a separate folder for each plugin with the name of that plugin.
now if you do this you extract filter into the newly created folder
in "C:/Program Files/Paint Shop Pro/plugins/.......(=naam van filter)
or your own created folder.
Now you have a good summary of the plugins and makes it easier to find one.

Open Paint Shop Pro and go to
File -> Preferences -> File Locations;
Now select the tab -> plug-in modules
and take it these settings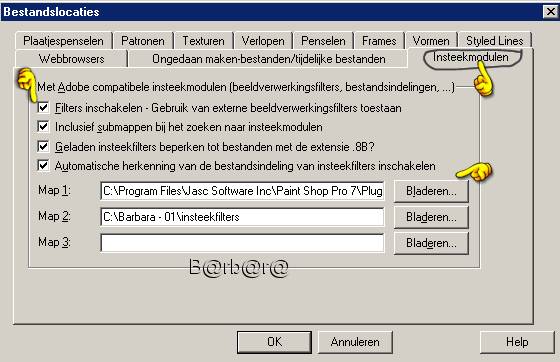 Click Browse and locate the folder C:/Program Files/Paint Shop Pro/plugins/
(or your own created folder) click ok.

Not all plugins are free, but many do,
Go to my collection of links.
Back
Klik op onderstaande linken om (freebies en betaalde versies)filters te downloaden.
Click on the links to download (free and buy) plugins.

Maak je eigen filters/ Create your own plugins.
Back
Terug
Hier kun je wel wat vinden, genoeg keuze.
Kun je een font niet vinden gebruik onderstaande zoekoptie.
Lots of fonts to choose, so you find what you seek.
If you can't find a font use the searc engine below.
Webdesign by Barbara Bekhuis